The branding methods we use are determined by the product type and material. Below is a quick insight into each branding method so you can see how to represent your logo and company image in the best light.

1- Screen Printing
Our most popular option
Works with most products
Print one or more solid colors (includes white, grey, and black)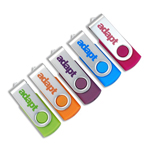 Screen printing is also known as silk-screening. This is a printing technique that creates a sharp-edged image using a stencil and a porous fabric. Areas of the screen are covered with a non-permeable stencil of the image to be printed. When printing multi-colour logos, a new stencil is made for each color and the different colors printed separately. Screen printing is most suitable for logos with 1-4 colors that have no shading or colour gradation. Before printing, inks are custom mixed to the match the Pantone ® colour references.
2- Full Colour Photo Printing
Works with most products
Required for graphics with gradients, color blending, & shadow colors
Looks best on light-coloured products (white, silver, etc.)
No "per-colour" printing costs; print any amount of colours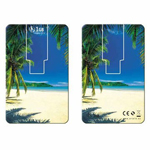 Logos can be reproduced in full color by combining 4 colours known as CMYK in varying amounts. The factory uses this technique in combination with polyurethane film to give your logo a very durable finish which is highly resistant to scratches and bumps. Full colour printing is the best choice for logos with many colors or those with shading or gradation. The factory has an in-house print department to ensure your logo is printed to the highest standards.
3- Laser Engraved
Works with metal and wood surfaces only
Most durable (longest lasting) option
Different metals yield different results when engraved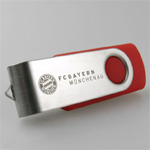 Laser engraving gives a very precise and clean finish. Engraving is not a color process like printing – your logo is transferred to the product by 'marking' the product with a laser. Using a computer, the position and movement of the laser can be accurately controlled to achieve the desired effect. Logos with sharp well defined borders tend to work best. The factory has an in-house laser engraving department to ensure your logo is engraved to the highest standards.
4- Hot Stamping / Debossing
Works with leather and wood surfaces only
Produces an impression of the graphic on the product's surface
No color is added or changed to the product's surface
Hot Stamping / Debossing is dry printing method in which a heated die is used to apply graphics to a part. Hot stamping is a process in which an engraved image is placed on the hot stamping die, heated then forced down against the leather or wooden flash drive covering.
5- Dome Stickers
An Excellent Alternative To Printing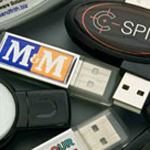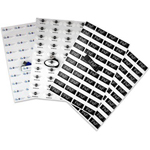 A dome sticker is colour print decal protected under a raised resin dome. We only use high quality, professionally produced dome stickers. We can produce the decals in any shape (so they fit neatly onto the memory sticks) and we can print complex logo's including graduated tones that typically can't be printed directly onto a memory stick. The layer of resin applied to the sticker helps prevent wear and tear and significantly reduces the usual scratching and erosion of logo's that can occur on printed USB sticks.
The lead time for dome stickers is just a couple of days and if you are looking to print multiple colors then the dome sticker option typically works out cheaper than spot printing directly onto the USB flash drive.
We're not suggesting you should always use domed stickers because for some flash drives printing is and will always remain the best option. But, if you're in a hurry and you don't mind limiting your choice of flash drives to those that work well with domed stickers then they are an excellent solution.