Jazz up your USB gift with the following accessories…
Lanyard
The lanyard allows the user to hang the product around their neck. The end of the neck strap has a detachable clip and a small loop which threads through a hole on the product.
Lanyards (neck straps) are typically associated with name badges but they are also a great way to carry branded USB flash drives. They come in a variety of colours to compliment your logo and they can be printed with your logo on the strap line. The lanyards supplied with memory sticks have a detachable clip on the end of them to allow the memory stick to be removed quickly and easily without having to take the lanyard off completely.
Much like key rings, lanyards are an inexpensive and fantastic way to compliment the USB flash drive and have no material impact on the lead time of any order.
Minimum order for logo printed lanyards is 100 pieces.

Key Ring
For some the most convenient way to carry a memory stick is to attach it to a key ring or a key ring loop on a bag. They are inexpensive and add nothing to the lead time of any order.
They are not automatically supplied so if it something you want with your memory stick be sure to ask for it when placing your order.
Key Clasp
A handy little key clasp which attaches easily to your branded USB flash drives, and just as easily snaps onto your keys, belt or bag. They can be included in any of the packaging boxes or tins we supply. They are an inexpensive way to add a professional finish to your branded USB flash drives.
Key Loop
Slide a key loop on your USB flash drives for added functionality and make sure your promotional flash drives never get lost! Key loops are great way to keep your data close at hand and make a fantastic attachment to any USB flash drive.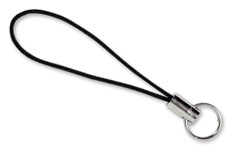 Silver Ball Chain
This accessory easily attaches to most USB flash drives and makes a great addition to any project.